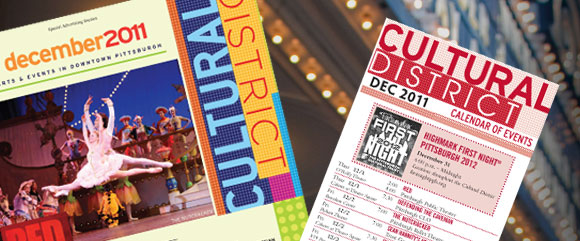 There are many advertising opportunities that put your product or service in front of the public, but only one that guarantees your message is put directly into the hands of those whom you wish to reach in a captive setting, free from outside distractions and in an environment that is conducive to receiving your message – Pittsburgh Cultural District Program Advertising
Members of our cultural events audiences have carved out the time to give the entire performance experience their undivided attention, and they read the program books from cover to cover! Can you afford not to have your product or service included in this unique opportunity?
Cultural District program advertising is a unique and highly effective complement to traditional mainstream commercial advertising. Maximize your image with loyal and lucrative audiences by visibly supporting the events they love!
It's easy to take advantage of the unique advertising opportunities in various program books throughout the year in the Cultural District.

The purchasing of ads, scheduling of artwork and invoicing of ads for all of the individual organizations can be taken care of with one call!
Ad space reservations are being taken now for all performances. Individualized packages, which take advantage of frequency and cross-district pricing, are available to exceed your advertising needs while honoring your budget.
No matter how you look at it, Cultural District advertising works.
Find out how it can work for you by calling Elaine Nucci at 412-471-6087 or
send a message online.
-
download important information and forms here